Compass Box debuts two whiskies
Scotch producer Compass Box has launched two limited edition whiskies, Flaming Heart 2022 and Ultramarine.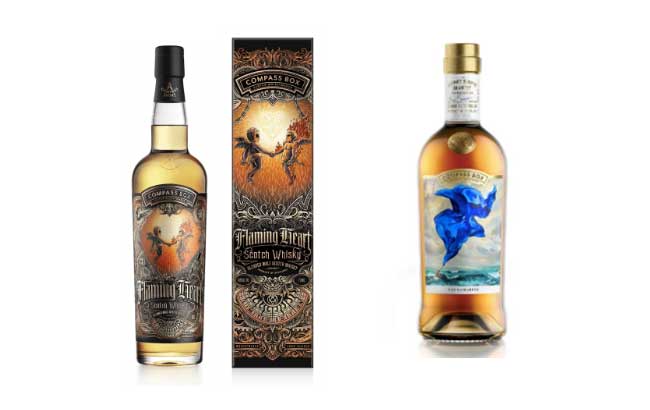 Flaming Heart 2022 (48.9% ABV) joins a range of five limited edition bottlings, released in 2006, 2010, 2012, 2015 and 2018. The series' name is inspired by a rock song by M Ward, an American singer from Portland, Oregon. For the 2022 release, a trio of whiskies from the Laphroaig, Talisker and Caol Ila distilleries have been brought together to create 'hearty peatiness'. Spice comes from a blend of Highland malt whiskies, which have been further matured for at least five years in custom French oak barrels. James Saxon, lead whiskymaker for Flaming Heart, said: "For the label of this seventh version, we have made the original rock music inspiration still more explicit. We wanted something that could just as easily be used as the artwork for an LP, or as a tattoo. "Oak, smoke and fire reunite once again, fusing pyrotechnics with deliciousness. As well as being the fruitiest Flaming Heart of recent years, we have brought in special remnant stocks of past releases for layers upon layers of smoke and French oak influence." Remnants of past limited editions, including Peat Monster Arcana, Myths & Legends, and the 2018 edition of Flaming Heart, have been used in the crafting process to deliver 'extra smoke and richness'. Meanwhile, Ultramarine (51% ABV) is the first instalment of a new series called the Extinct Blends Quartet. This series will pay homage to styles of Scotch from the past, with Ultramarine taking its inspiration from a 'deluxe' blended Scotch whisky first released in the late 1980s. Saxon said: "As whisky makers and blenders, we take umbrage that closed single malt distilleries attract all the adulation and explosive hammer prices at auction. "A distillery is never entirely lost. As we see with Brora, Rosebank and Port Ellen, they can be revived – mash tuns can be refilled, stills heated up again. "Blends, though, are the richest time capsules Scotch whisky has, reflecting the ideas and sensibilities of the teams of people that made them, and the styles of stocks available to the blenders from year to year." The first few batches of the blend on which Ultramarine is based drew from stocks of malt and grain whisky that had built up as part of Scotland's 'whisky loch' of the late 1970s and early 1980s. Ultramarine uses aged malts and pre-blended parcels of Scotch whisky, both matured in Sherry casks, together with peated malts. The whisky features prominent aromas of toffee, vanilla and toasted oak, with impressions of a peaty malt kiln. Notes include leathery dried mango, roasted pecan and raisin. Saxon added: "Ultramarine and the whiskies that will come after it are not recreations – that isn't possible. They are instead tributes, our way of reimagining the DNA of some great blends of the past." Ultramarine retails for RRP £295 (US$349.23), and will be available to buy from October with 5,982 bottles available worldwide. Flaming Heart 2022 can be purchased for RRP £130 (US$153.90). The latter will be on UK shelves from September, with only 9,606 bottles available worldwide. Earlier this year, Compass Box
released a limited edition blended whisky
that brings together flavours inspired by the colour coral, as part of its global bartender programme.
---